Details

Created on Friday, 15 November 2013 10:40
Last Updated on Sunday, 17 November 2013 03:33
Written by David Rountree
3) Camouflage-Jerseys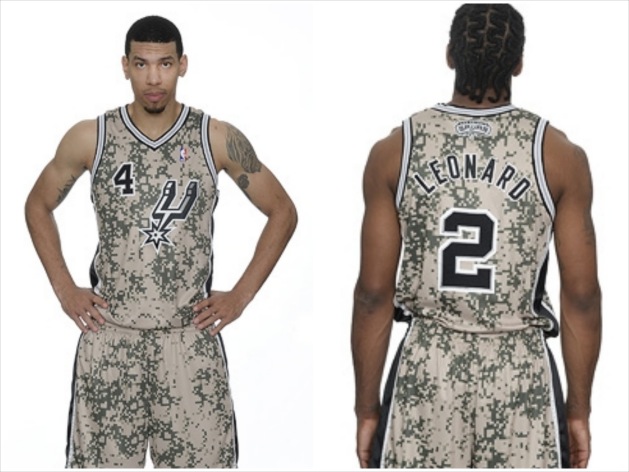 - The Spurs have never been known to stray too far away from the silver and black signature jerseys but lately they have been giving fans a lot to talk about. The new "Camo" jerseys were meant to honor the Armed Forces, but the look has been trending on the web. Spur fans all around the world want to get their hands on the jerseys and other merchandise with this unique pattern.
- The style is definitely different from what the Spurs are use to wearing and that may be the key to its success. It is good that the team and the league are varying the look of one of the best franchises in the NBA. Sure, the look may not go over well with the most loyal of fans but it is important for the team to appeal to younger fans as well.
2) Jersey T-Shirts for the Younger Players
- The jersey-shirt, which is a cheaper alternative than buying the actual jersey, is a great way for fans to represent their favorite player. Fans have always been use to seeing the trio of Parker, Ginobili, and Duncan represented well this way, but now younger player jersey-shirts are popping up all over the web. Players like Kawhi Leonard and Danny Green are getting some exposure, preventing fans from having to pay extra to get a custom made jersey for these players
- Jersey-shirts are the best way to represent a team, especially for an adult who rather not dawn a jersey. Basketball jerseys, when not worn at the actual game, can seem immature but the shirt can be a more casual way of representing ones' team.
1) New Christmas Day Jerseys
- The NBA seems to want to squeeze as much money out of fans as they can, but this new NBA jersey is very tempting for a Spur fan to get. It has the maturity of a jersey t-shirt but has the material of a traditional jersey. So it is a item that takes two loved products and basically fuses them together, it is when casual wear meets sports wear.
- The price tag for this item is very high ($110) but NBA.com provides a good alternative. The website is also selling a traditional t-shirt with the same designs and logos as the Xmas day item ($25). So reluctant Spur fans who are in love more with the design versus the material can still add it to their collection.